---
---
Deedster at Work: For sustainable brands and companies
Bring climate action to work
The shift to a sustainable future is all about people. It is simply impossible to make the changes needed without engaging the masses. At the end of the day, it's on us to steer the world onto a sustainable path. The planet calls for teamwork, so why not start with your team?
Employee engagement is pivotal for any organization's or business' success. Engaging in climate action at work has the additional upside of contributing to a greater cause. 
---
---
---
---
---
Making change
fun and engaging
---
---
---
Deedster at Work — Boost Company Culture
Engage your employees in sustainability
Deedster at Work is our solution for employee engagement and team-building activities for work. It is a gamified learning experience that ultimately seeks to empower people to make real change.
Realizing that every organization is different, we can tailor Deedster at Work to suit your needs. Launch fast by choosing content on impactful topics created by our experts, or extensively tailor Deedster at Work to your organization, integrating it into your Net-Zero strategies.  
Deedster at Work is an adaptable service that fits any team or organization, no matter the size or location.
---
---
---
---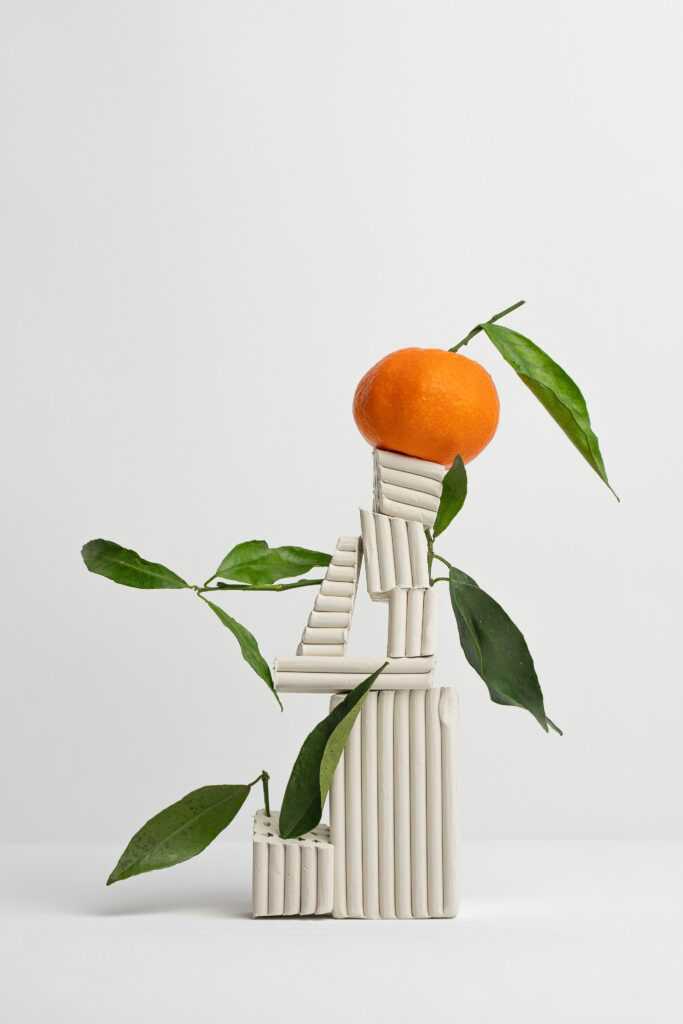 ---
---
Watch how Deedster at Work can engage your employees
---
A gamified sustainability program
With our employee engagement tools featured in our award-winning app, we have engaged thousands of employees across the world. We'll educate your entire organization using the latest science and inspire you and your team to take real climate action. Who said change can not be a lot of fun?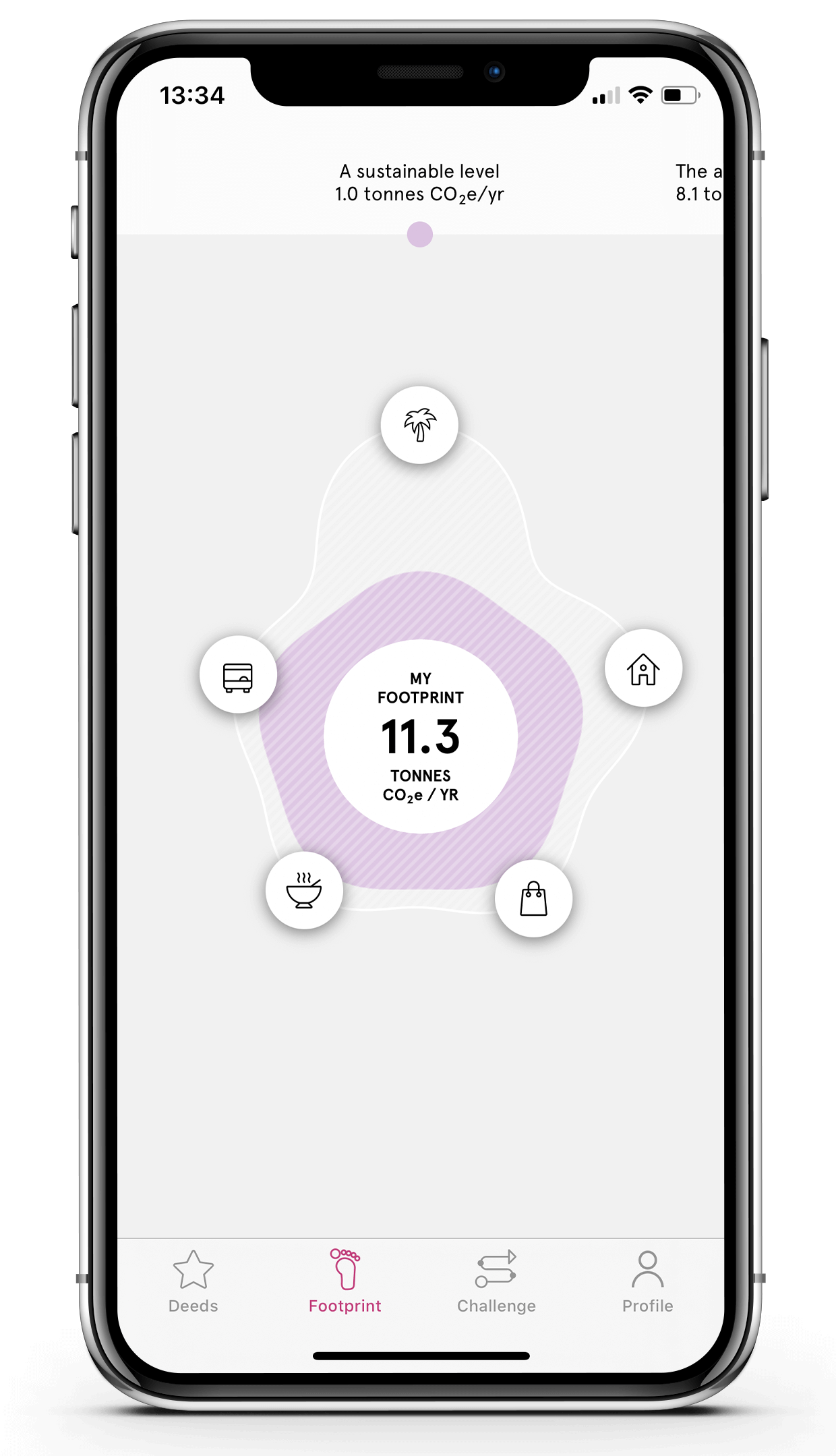 ---
Lifestyle climate footprint
Answer questions about your everyday lifestyle, and we'll calculate your carbon footprint for you. And suggest Deeds to help you make changes.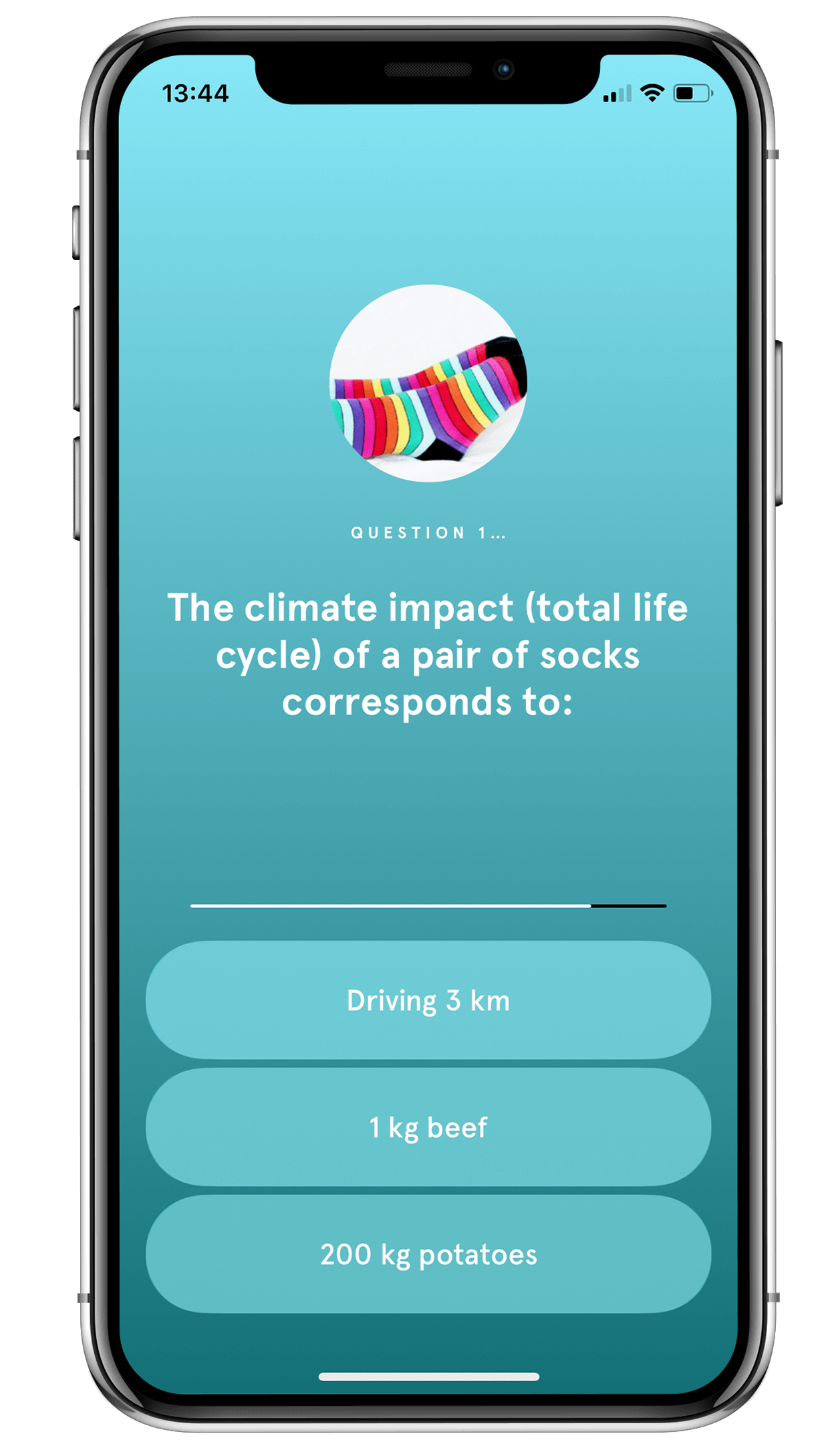 ---
Learnings and insights
You'll find what you didn't know about climate and sustainability in the Deedster quiz. We tailor quizzes with business-specific insights based on the latest climate research, educating your whole organization.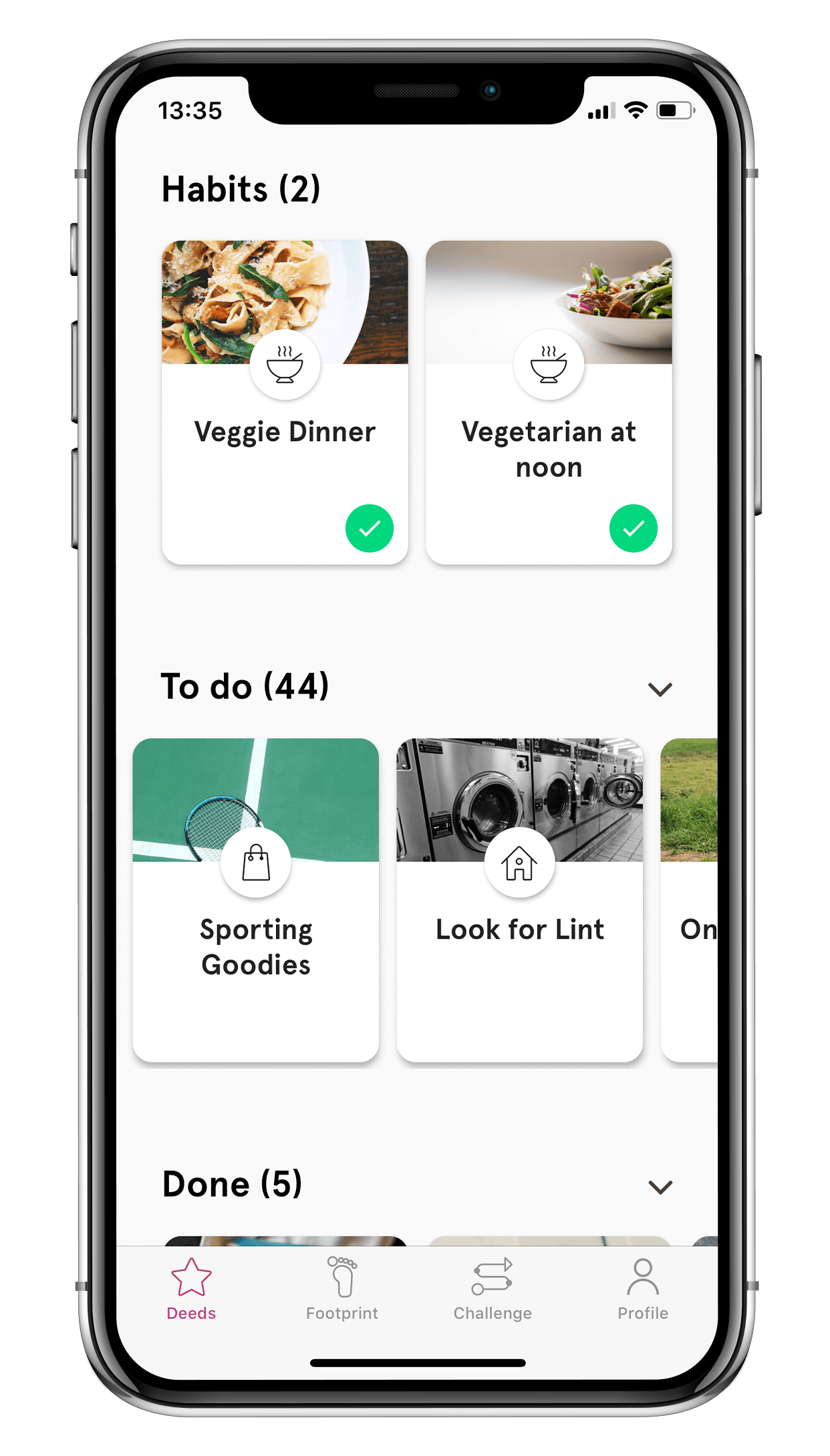 ---
Data-driven guidance and action
Try out new stuff and join the fun: shop vintage or go for tap beer. We personalize your journey and show which changes and greener habits lead to the most climate impact in your life.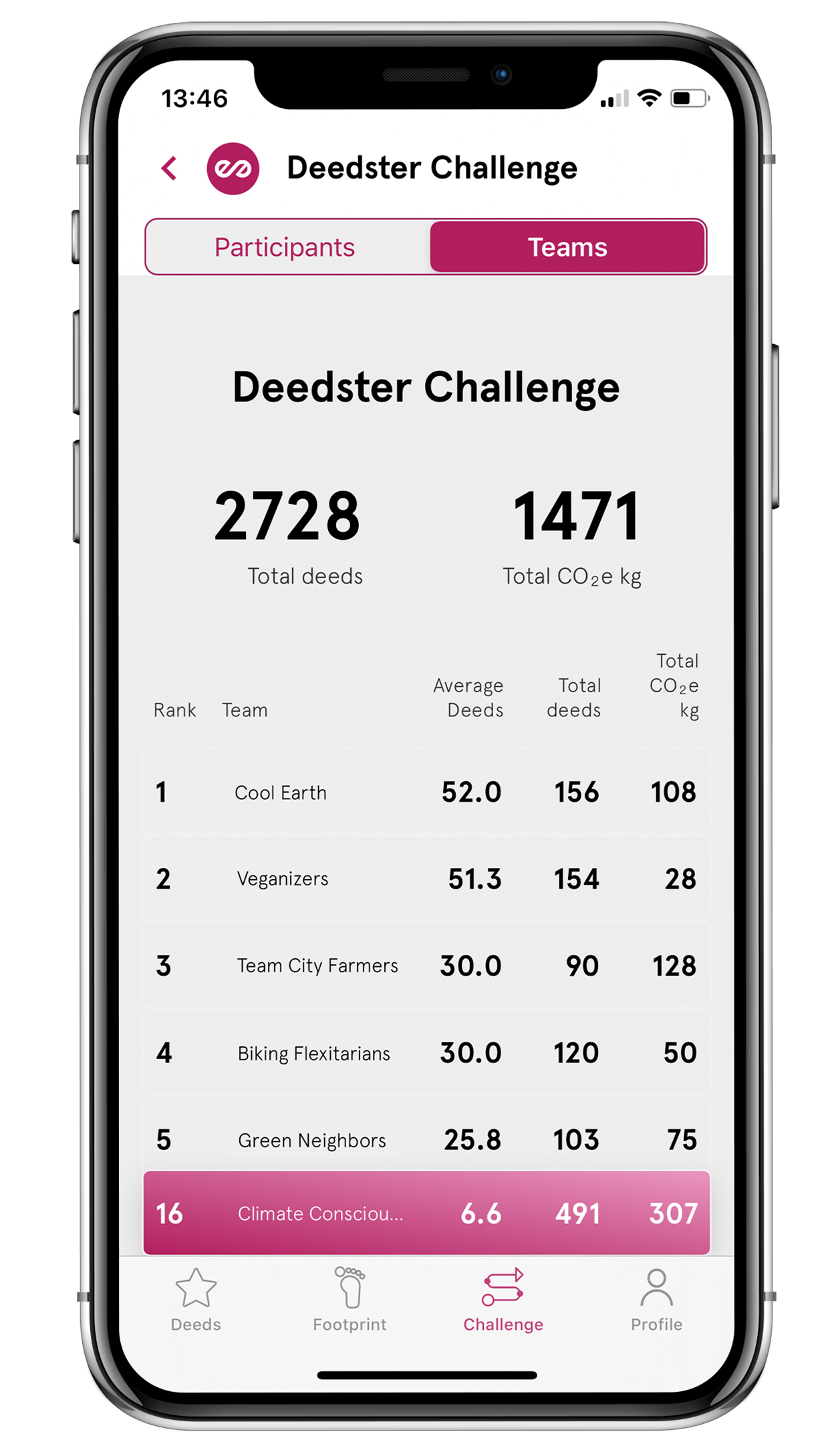 ---
Green incentives and rewards
We make it fun with gamification and rewards. You can create teams and compete in doing as many deeds for the climate as possible.
Deedster at Work with Essity
---
---
The amazing employees at Essity took Deedster at Work to heart and accomplished an extraordinary competition with incredible engagement and joy. Who knew climate action could be this much fun!
---
---
---
Deedster at Work — Build stronger teams
We designed the Deedster Sustainability Program to be the backbone of your sustainability efforts because it is easy to tailor it to your needs today and tomorrow. With our employee engagement tools, you get the employees embarked on your transition to sustainability. All while you are having fun and building culture.
We recommend kicking off the program with a 4-6 week challenge to get everyone onboard and spark the competitive nerve. In this challenge, employees will calculate their carbon footprint, learn through quizzes, and take action by doing climate-smart deeds. At the finish line, you can celebrate your everyday achievements!
Tailor the content to include the current sustainability work of your company or run through our most popular pre-defined challenges.
At every step of the way, we are here to guide you.
---
---
Based on where you are standing today, we guide you in setting the structure and narrative of the program. We go through the content outline, team structure, and release dates.
Our sustainability experts are happy to come to you and do an inspiring talk on climate change, sparking motivation and enthusiasm! We also demo the app and make sure everyone is on board.
#3
On The Way
During the program, you can award winners, connect rewards to benefits and expand your impact by bringing more people and stakeholders on board.
Get access to our powerful data reports to follow the exciting progress, including Scope 3 commute data.
Changing the world deed by deed
Tons CO₂e reduced by our community
---
Climate actions done for the planet
---
---
---
Get in touch.
We'd love to help your
organization!
---