A Little Background
Banks play a crucial role in guiding customers toward sustainability as the backbone for consumption. Reducing climate impact on customer purchases is a challenge indeed.
And it is a fantastic opportunity for financial actors to step in and take a stance in sustainability leadership.
For over a decade, sustainability has always been one of SEB's focal points. However, SEB Baltics observed it was not until recently that customers in the Baltic countries raised concerns about sustainability.
Being a part of the SEB Group, they provide financial advice and services to all customer segments in Estonia, Latvia, and Lithuania, reaching over 20% of the market segment in each country.
Seeing that there is a gap for the wider society to be engaged in sustainability, Eha Talvist-Reinsalu, the Baltic Brand and Sustainability Manager, and her team saw an excellent opportunity for SEB Baltics becoming the customers' advisor in sustainability thinking.
By partnering with Deedster, they leaped and created their upcoming long-term climate engagement initiative called "What's the size of your footprint?"
The "My Footprint | SEB" app offers a long-term climate engagement which SEB Baltics hopes to close the gap and accommodate society's needs in supporting customers' sustainable habits.
With Deedster, "We want to give back; this is SEB's gift to society: a real, sustainable tool."
Being the Bridge to Sustainability
According to SEB Baltics, the bank is one of the front-runners in sustainability within the industry. Ranking as the second-largest bank in the Baltic region because of its universal banking model.
As one of the leading banks in the Baltics, SEB's strategy includes serving corporate and private customers and strengthening local management competency.
Over the last decade, they have been offering sustainable financial products, like Green Leasing, and including Green Loans for corporates which they launched in 2020. And subsequently, their new Green Home Loans in 2021.
As the Baltic Brand and Sustainability Manager, Eha's role in SEB Baltics' branding and marketing communication reflects how customers can lean more towards a sustainability mindset.
As Eha puts forward, "Everyone's talking about sustainability, but in reality, how much do people know? And what should they do with their habits? How should they contribute to the bigger picture—whether that's locally or globally?"
Realizing that the next step involves the lay public, especially the younger generations, SEB sought a feasible yet practical approach to support and educate customers to engage in a more sustainable lifestyle.
Sustainable Thinking for Climate Action with Deedster
Eha acknowledges that sustainability is more than just a trend. It is a lifestyle that will remain within future generations.
While sustainability can be a challenging topic to take part in, they are eager to translate these challenges for customers to take the initiative for the better.
In partnering with Deedster by creating their White Label Application, launching the "My Footprint | SEB" app as the bank's long-term climate engagement initiative offers customers a means to contribute to halting climate change by empowering climate action.
With the help of Deedster, carbon footprint calculations and incentives provide a positive approach to challenging oneself for a sustainable lifestyle and as a reminder to commit to sustainability.
Implementing Deedster's tool makes it easier to be engaged with carbon data through personalized insights that are transformed into actionable habits. From her first impression, Eha claims, "The application is impressive, and it makes you hooked."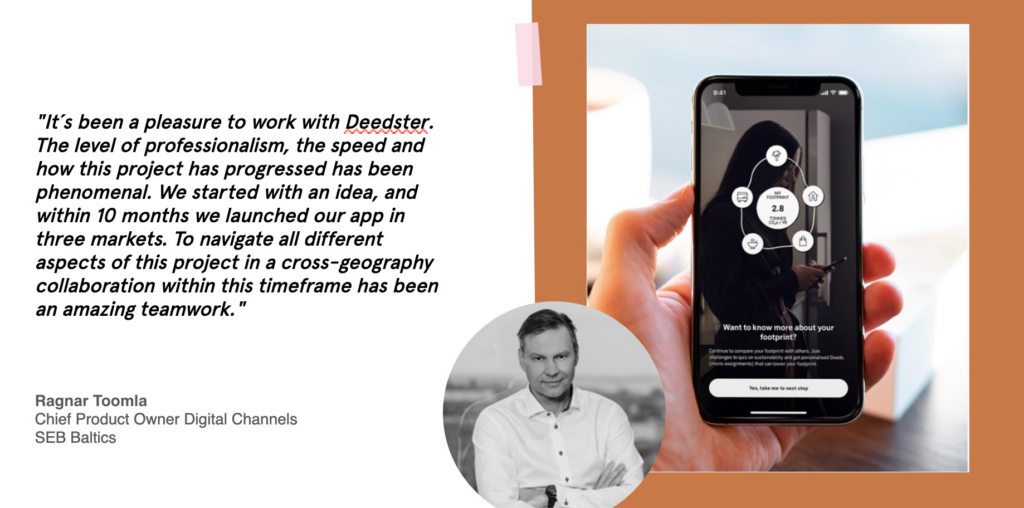 To Be the Trusted Advisor for A Sustainable Future
SEB Baltics are also establishing its sustainable brand by taking a role in sustainability leadership. Their My Footprint shows how timely and relevant this opportunity is in financial services.
My Footprint | SEB is an application that measures up-to-date carbon footprint without agitating customers and offers a convenient, sustainable lifestyle.
In addition, SEB plans to add the Deedster's tech solution that can automatically calculate carbon emissions based on what customers buy. And further, personalize their journey to show which habits would be more suited to try in their sustainable lifestyles. This is next on their roadmap.
As SEB Baltics aspire to support customers in sustainable lifestyles, practicing sustainability can also be enjoyable. Eha highlights, "We'd like to be advisors and supporters, and Deedster helps us in doing so. It is the perfect tool for calculating carbon footprint and providing actionable insights through tips and deeds."
The "My Footprint | SEB" app is available to download in English, Estonian, Latvian, Lithuanian, and Russian languages, respectively. It caters to users in each country and lives up to its tagline for each person to enjoy a more sustainable lifestyle: "Your choices. Global changes."
Engage Your Customers for Climate Action
Here at Deedster, we assist finance actors in participating in climate engagement. With enriching climate data, we engage customers across the globe to contribute toward climate action.
Our services provide advanced technology that can easily tailor to your consumer needs. Delivering reliable results with fast implementation, our tool can speed up your consumers' journey in sustainability.
Would you like to give back to your market and engage consumers for a sustainable future too? Book a demo with us.
And for more on this case study, watch the entire press brief here.